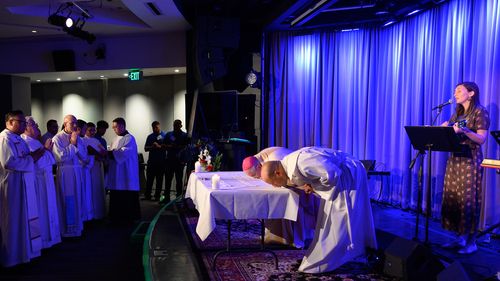 Aside from my own songwriting and performing, I find tremendous joy in leading praise and worship in churches and religious settings. I've been a regular cantor and music director for a weekly Sunday liturgy since 2015, have served as a worship leader for over 30 retreats, and I have been singing praise and worship music as a minister since 2008.
Most recently I was blessed to lead worship with my band at the Grammy Museum for the Catholic Association of Latino Leaders (CALL) Conference in September 2019.
Worship Leading Experience 
weekly music directing and cantoring for Sunday liturgy 
cantoring and leading worship for retreats, conferences, festivals, and gatherings
XLTs & Eucharistic Adoration 
My Catholic Christian faith deeply influences my music, my songwriting, singing, along with all other aspects of my life. Experiences of God are woven in my lyrics. When I sing, whether it be worship music or secular music or anything in between, singing is prayer for me.